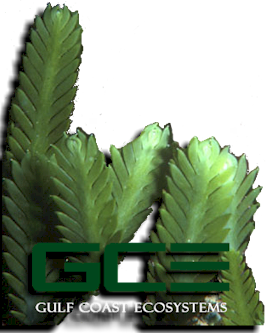 Welcome to Gulf Coast Ecosystems, Your Source For Quality Marine Plants and invertebrates.
We specialize in collecting many species of macro algae native to both the Gulf of Mexico and Atlantic Ocean. We offer only the highest quality specimens that have been hand collected from the ocean and acclimated to aquarium conditions. In addition, we also collect and offer a selection of corals and invertebrates native to Florida. The stock is very seasonal depending on the water temperature and conditions in both the Gulf and Atlantic.
All orders ship via UPS ground or UPS 2-day air depending on your location. The shipping price includes an insulated box as well as any heat packs and or cold packs if needed. The individual shipping prices are listed under the ordering tab above.
We ship every Monday and Tuesday. All orders received after 10am EST on Tuesday will ship the following week. We use Paypal to process all of our online orders. The shopping cart will open on Paypal's website, which is 100% protected and secure. To order, click on each image to open the description page. Please ensure that all items are listed as "in stock" before adding them to the shopping cart.